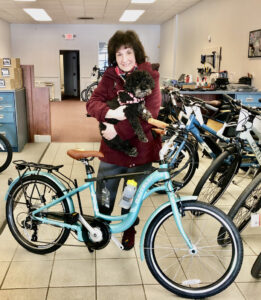 I had been researching different types of e-bikes for a couple of years but could neither find one that I really liked nor a store with a variety to compare. I tried to reach some dealers in NYC and northern NJ but their products were very limited. So when I happened to be in the Princeton area, I decided to visit your store just to look – not purchase. Billie, your well-dressed dog, greeted me enthusiastically and I was very impressed with all the different models that were on display. Russ and Scott couldn't have been more helpful, explaining different features on the bikes. There were a few models that I was interested in, but when I saw the Bintelli Journey, I knew that was for me. After a test ride, I bought it right away!  I am really looking forward to enjoying it when the weather gets better. Russ explained the connection to the Boys & Girls Club and how they benefit from your sales. This is a wonderful thing that you are doing and all of you must be commended for your volunteerism and fundraising. You are making a difference in the lives of the children as well as making the world a better place.
With best wishes for your continued success!

– Ida, Washington Township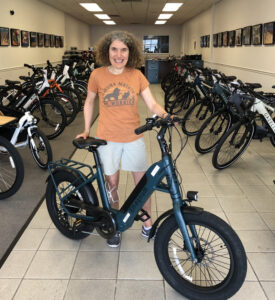 I had the pleasure of picking up a Magnum Pathfinder at Princeton eBikes this past weekend. They had a good amount of inventory, and the staff was so helpful and carefully explained the difference between the various models, as this was my first eBike purchase. After test driving a couple of models, I fell in love with this one, and since bringing it home have taken several rides. The experience of being able to comfortably bike on uphill is just awesome! After test driving mine, my brother ended up picking up the same model and is also loving it. It is an added bonus that their profits go to the Boys and Girls Club!

– Amy O, Skillman, NJ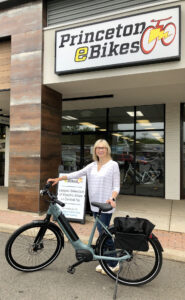 I'm turning 60 this year, in pretty good shape, and enjoy being outside. I've had this bike for about a week and a half. There is no limit to where you can go and no worry about getting back! The pedal assist motor is optional to use but so nice to have when a hill decides to get in your way. I rode 13 miles Sunday morning and the trip down the hill was as easy as the trip back up! Princeton Ebikes was great to work with! They are mostly riders themselves and they do the servicing too! The profits go to the Boys and Girls Club so you feel good about helping others too! Go take one for a spin in the Lawrence Shopping Center!
– Pam M, Princeton, NJ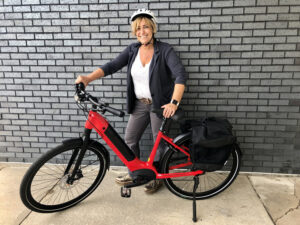 So excited to make this investment in my e-bike. The folks at the shop were terrific. They ask lots of questions and listened to my answers so the recommendations they made were spot on for my needs. I've been back to the shop since and they've helped me with adjustments. Could not be more pleased with my bike and the service at Princeton ebikes – and really feel great that profits are supporting a worthwhile group – the Boys and Girls Club of Mercer County. A win win win.
– Pam F, Lawrenceville, NJ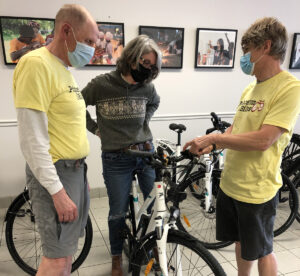 I have been considering an ebike for several years now and couldn't make up my mind what type would best suit my needs. When we stopped by Princeton ebikes (just to check it out), we were met with an amazing knowledge base from the volunteers. Every single question asked was answered. Through the expertise of the volunteers, I was able to figure out which was the best ebike for my needs. Then I got to go on a test ride. It was a fantastic experience and I fell absolutely in love with the bike! I love the fact that these folks are all volunteers and that the profits from the sale go to a wonderful organization! Epic win all around!
– Bo S., Columbus
My husband has been looking for an electric bike to buy for the past year. He did not feel comfortable buying it online because he  wanted to be able to get the right fit and to be able to try it out first. I found Princeton eBikes in a circular and called them for an appointment.
I was called back promptly by one of the salesman, Russ.  He gave us an appointment the same day. He was very pleasant and accommodating. He met us at the store. He gave the personal attention we wanted and answered all our questions. My husband was able to ride the bikes before deciding on one to buy. The bike was delivered the same day. My husband is very satisfied with the the performance and the quality of the bike. He will enjoy it for many years to come.
I am also pleased that as a result of our purchase we will contributing to a good cause, The Boys & Girls Club of Mercer County. I'd also like commend the staff for their volunteer work.
I highly recommend Princeton eBikes.
– Patricia, Monmouth County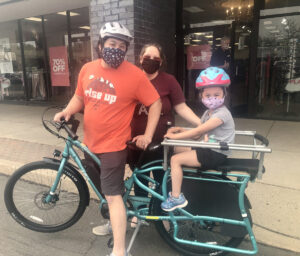 "The friendly staff at Princeton eBikes made our shopping experience so easy. They patiently answered questions and set-up test rides with no pressure.
While I initially was looking for a commuter ebike, my family realized that we could get more use, and time together with a cargo ebike. The extensive selection available at Princeton eBikes meant this was an easy option for us to try as well. They outfitted the Yuba Boda Boda I tried with all kinds of optional accessories so we could see what made sense for us. My daughter loved riding with me (and also loved playing with the shop's dogs during all the other test rides). When we were ready to purchase they offered delivery, but it made more sense for me to ride back home with the bike and get familiar with it. The staff helped find a bike friendly route home, as we aren't familiar with the area.
The icing for the purchase was the fact that a significant portion of the sale went to help the Boys & Girls club in Trenton. Being able to be healthier, spend more time with family, and helping the earth and our new community was a no-brainer. Thanks again!"
– Henry L, Pennington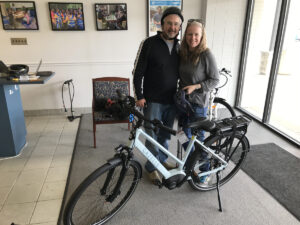 "The service at Princeton eBikes was exceptional!  Russ and Jay were fantastic.  They are highly knowledgeable and went over every detail and feature of the bike with us after they patiently let us test drive a bunch.  The prices are great too.  The best part is that they are all volunteering and all profits go to supporting the Boys & Girls Club of Mercer County.  Keep up the awesome work Princeton eBikes!!!" 
– R.J. & Cathy L, Newtown, PA
"I went to Princeton eBikes during their opening weekend. Everyone was very helpful and informative about the differences between the bikes and directed me to two models that would suit my needs. I took both for a test ride in the parking lot and came home with a Bintelli Journey. It's just the right size for me (I'm short) and it provided a comfortable ride. I'm looking forward to being able to bike to parks and shops for fun and recreation. The fact that the profits go to the Boys & Girls club is a bonus! Thank you Princeton eBikes. I wish you much success!"
– Leslie F, Lawrenceville, NJ
"Had a great experience buying our new electric Gocycle GX bikes from Princeton eBikes! They ordered them and had them ready for us when we arrived. We really appreciated the attention to detail provided to us by Matthias and Russ. They were very friendly, helpful and ensured that we understood and felt comfortable with all the nuances of the new Gocycle GX. We love the new bikes and are so pleased with the friendly staff at Princeton eBikes! It's also impressive knowing that all the profits go to Boys and Girls Club in Trenton! Thank you again for your top notch service and sales!"
– Betty G and Allen G, Horsham, PA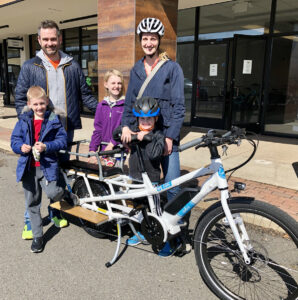 "Great customer service and selection. Russ and Theresa were so helpful and easy to work with. We were in the market for a family cargo ebike and we were so happy they had a Yuba Spicy Curry for us to test ride. The kids (ages 5,7,9) wanted to go on endless test rides, and Russ and Theresa were so patient with us. We are very happy with our bike and will no doubt be back in the future. The best part is the profits back to Boys & Girls Club of Trenton. A win for everyone!"
– Elizabeth F, High Bridge, NJ