How Princeton eBikes Selects Our eBikes
Road Bike Magazine lists 143 companies currently designing and manufacturing eBikes.  The eBike industry is a bit like the car industry in the early 1900s . . . lots of companies are entering this rapidly growing market with most unlikely to survive for the long term.
Therefore, Princeton eBikes has carefully selected eBike manufacturers who have a proven track record of outstanding quality and service in the US eBike market and the internal infrastructure to provide the necessary capabilities to support the eBikes we sell.
The majority of the eBikes we sell have mid-drive motors.  Mid-drive motors take advantage of the bicycles' gearing since the motors are connected directly to the pedal stroke.  The end result:  a smoother, more efficient ride and greater mileage.  Our mid-drive manufacturers include Gazelle, Bulls, Pegasus and Yuba.
In order to offer a range of value-priced eBikes starting at $1500, Princeton eBikes offers two high quality hub-drive brands, Bintelli and Magnum.  Hub-driven motors are connected directly to the wheel in the rear of the ebike and thus the motor provides propulsion by spinning the tire on which it is mounted.  Hub motors are typically used by riders under 175 pounds who do not cycle where there are big hills.
---
Gazelle
For the Dutch, a bike is more important than a means of transport. It is a way of life. Gazelle has been producing bikes for more than 127 years in their factory in Holland. You will feel the difference in comfort and stability from the first pedal stroke on these European made eBikes. With 350 employees, Gazelle makes more than 250,000 bikes each year.  Gazelle's history and attention to quality and design makes cycling more enjoyable, more attractive and safer. Everyone can ride like the Dutch.
The following sporty Gazelle eBikes have outstanding handling that lets you make the most of your weekend adventures and your commute. These bikes are super comfortable, a feast for the eyes and many have the battery integrated into the frame for a streamlined, efficient look and feel. All Gazelle bikes are powered by a Bosch integrated eBike system with battery, motor and display-controller, the premium eBike motor.
The bikes shown below are a few of the Gazelle options. To address the acronyms in the name of each model, HMB stands for hybrid mid-drive Bosch, which means that the bike is electric assist (no throttle) and has a Bosch motor in the mid-section.  T means the bike has a derailer with 9 or 10 gears (as specified by the accompanied number). C means the bike has an internally geared hub with the number of gears associated with it. Speed or + means the bike pedal assist speeds reach 28 MPH rather than the usual 20 MPH. The power of eBikes is set by the torque on the wheel. Torque can the thought of as the rotational force. Torque is measured in Newton Meters or N below.
Medeo T9 HMB, $2500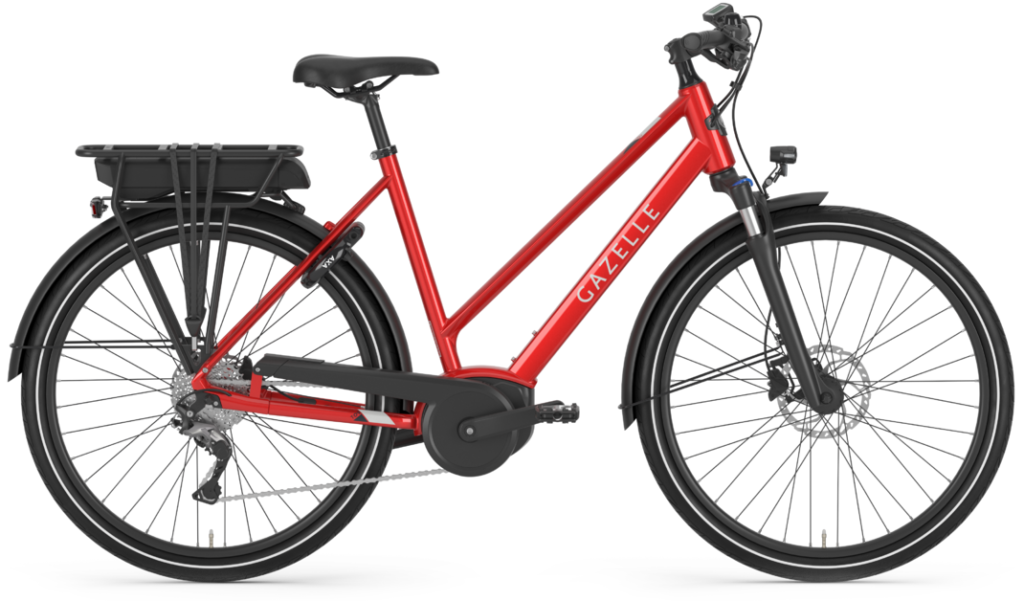 This is Gazelle's most affordable option and has high quality components to give supreme comfort. It has a Bosch Active Line Plus motor (50N) providing support up to 20 mph with 400W battery. The frame is a dynamic aluminum alloy either as a low-step with carrier battery or high-step frame with battery on the down tube and comes in three sizes (S, M, L). It comes in three colors (blue, grey and red).
---
Medeo T10+ HMB, $3500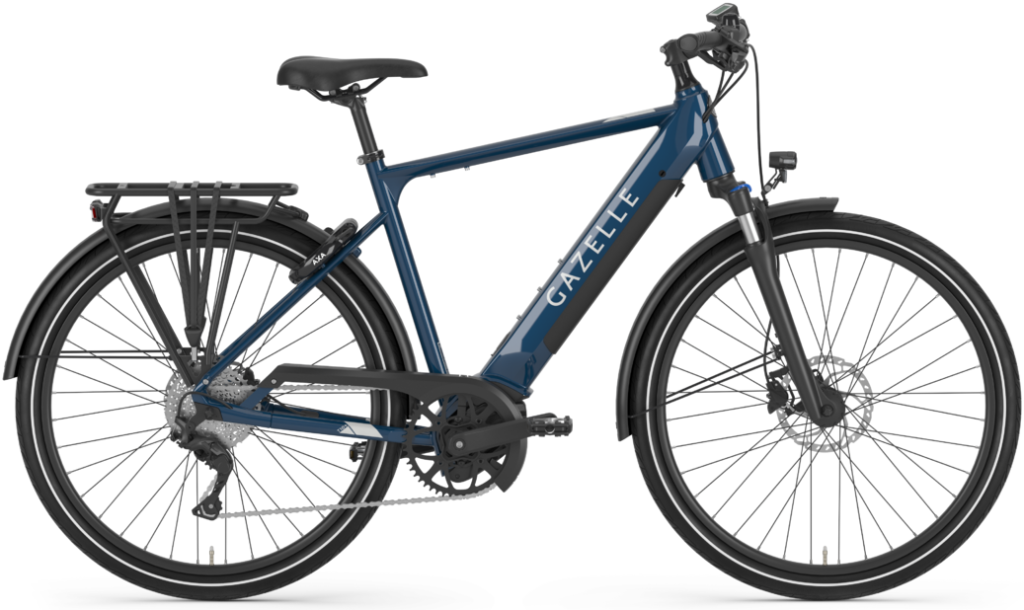 This stylish and sporty electric bike has a dual battery capability to extend your ride beyond previous possibilities. It has a Bosch Performance Line Speed motor (85N) providing support up to 28 mph with integrated 500W battery and 4 piston hydraulic brakes. The frame is a stable lightweight aluminum sloping frame either as a low or high -step and comes in three sizes (S, M, L) and two colors (blue, and green).
---
Gazelle Ultimate T10 HMB, $3800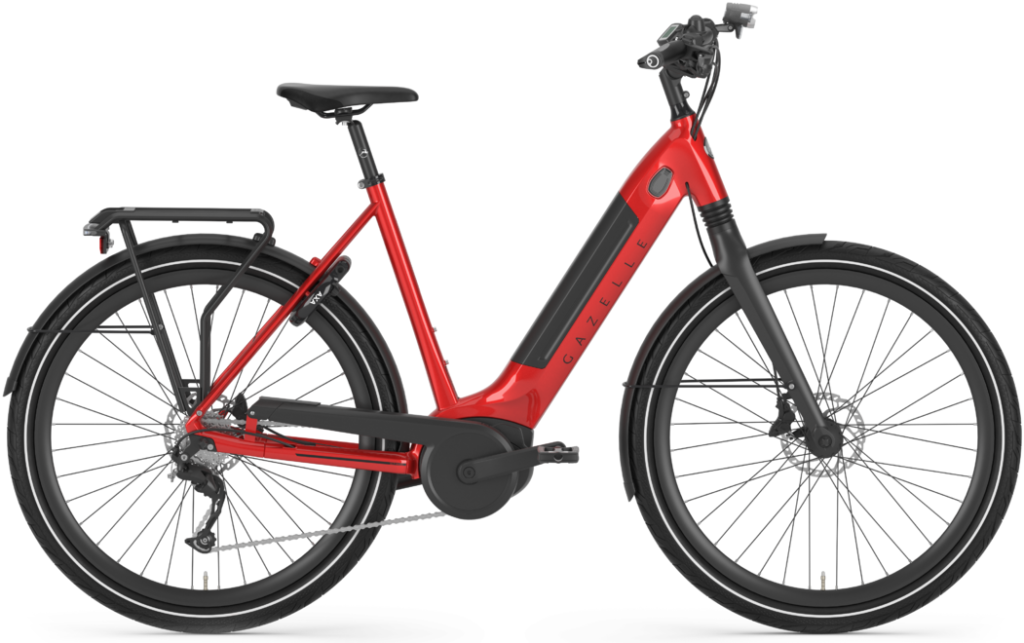 This bike is powerfully assisted thanks to a Bosch Performance Line motor with 65 N of torque (20 mph) and 500 W integrated battery. The stable aluminum frame comes as a low or high step model in three sizes and three colors (beige, grey and red).  The dynamic design, high level of comfort and excellent handling make this bike the ideal companion for long recreational trips.
---
Gazelle Ultimate C380 HMB, $4000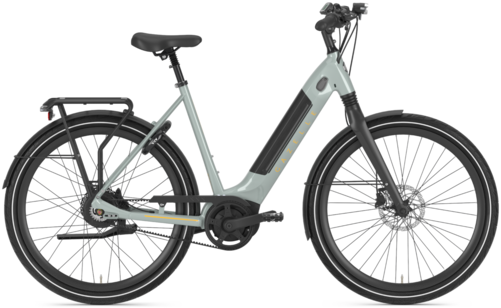 This bike comes with a Bosch Performance Line motor with 65 N of torque (20 mph) and 500 W integrated battery. It has Premium Shimano Deore disc brakes for smooth and responsive braking. The Enviolo 380 trekking hub provides effortless and stepless shifting. The stable aluminum frame comes as a low model in three sizes and two colors (blue and green).  Combined with the wide tires, a front suspension fork, relaxed poster thanks to upright handlebars and frame design, this bike raises the cycling comfort to an unprecedented new high.
---
Bulls / Pegasus eBikes
Bulls has been in the eBike market since 2010. All of their high quality ebikes are engineered, designed, and tested at their headquarters in Cologne, Germany. Bulls is a good example of a brand that has an eBike for every need, offering a great mix of eBike models and drive systems in different disciplines from eMTBs to eCross to eUrban to eFat bikes. Pegasus is also a German maker of eBikes, owned by Bulls. They are committed to making high quality eBikes, at a fair price. They feel that every cyclist should be safe as well as comfortable.
Bulls Grinder Evo, $3900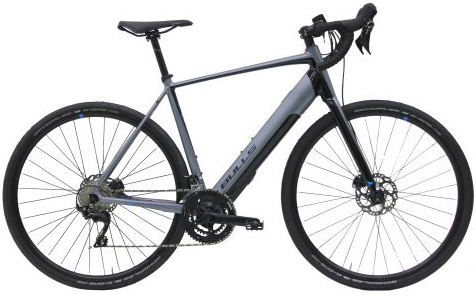 The Grinder Evo is a class 3 road/gravel bike capable of reaching 28 mph speeds with pedal assist. The endurance frame is aluminum with a carbon fork and comes in three sizes: 48, 52 and 56 cm. The mid drive motor is a Bosch Performance 350 W, 65 nM, with in-tube battery. Also included is 11 speed Sram 11 gearing, with Sram hydraulic disc brakes.
---
Bulls Cross Lite Evo, $3300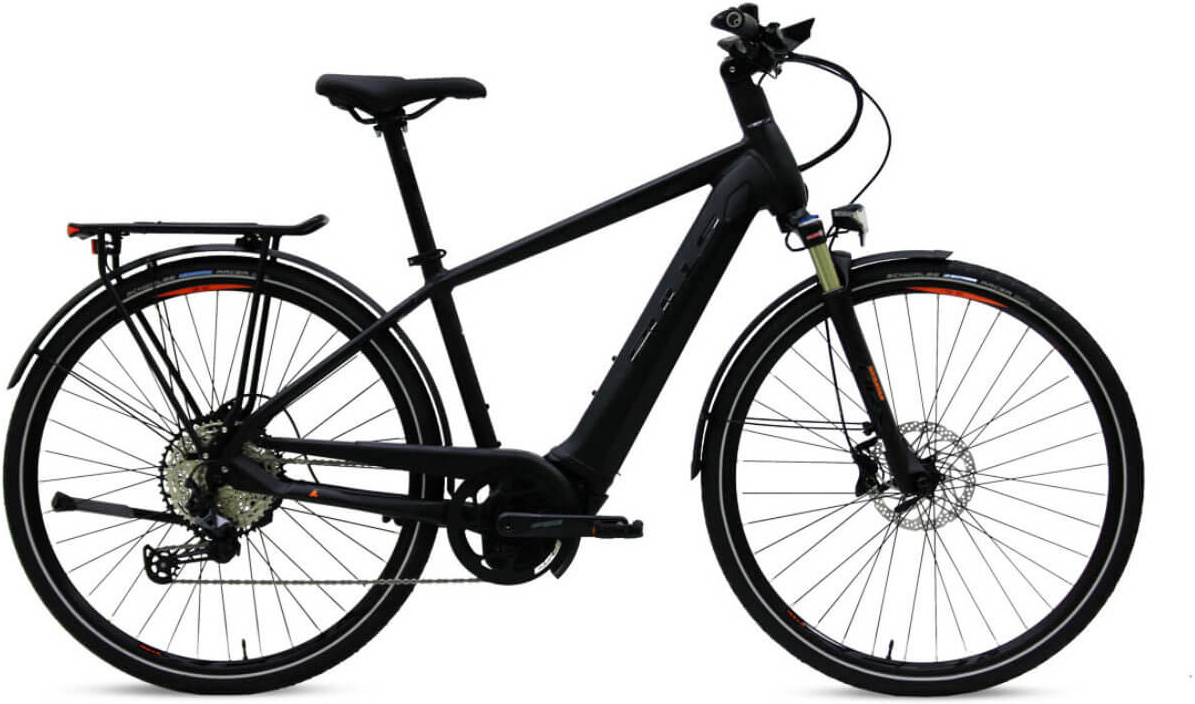 The Cross Lite is one of the most popular Bulls electric bikes, available in a relaxed frame in two sizes (48 and 53 cm). It runs on a powerful 250 W, 75 nM Bosch Performance Line CX mid drive motor and has an integrated Bosch PowerTube battery. It is geared with a 11 speed Shimano Deore XT derailleur and has Shimano hydraulic disc brakes.
---
Pegasus Premio Cross, $2300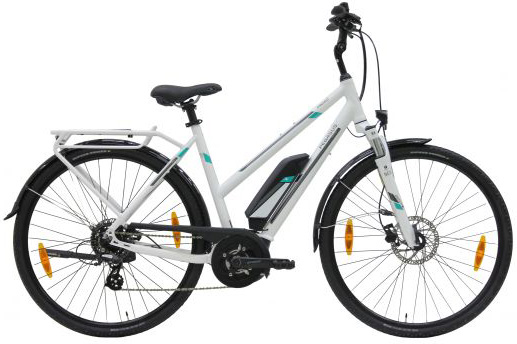 The Premio Cross is a more affordable option from Bulls that offers great performance. It has a Bosch Active Line 250 W, 50 nM mid drive motor, aluminum frame and Shimano 8 speed gearing with Tektro hydraulic disc brakes. It comes in upright frame of three sizes (46, 53 and 57 cm).
---
Bintelli
All of Bintelli electric bikes are loaded with quality components and upgrades such as headlights, taillights, rim reflectors, seat post suspension, lithium-ion batteries and Shimano gearing. Bintelli's focus is on building value into an eBike.  With competitive pricing and quality, Bintelli's eBikes provide top value for money.
Bintelli Trend, $1900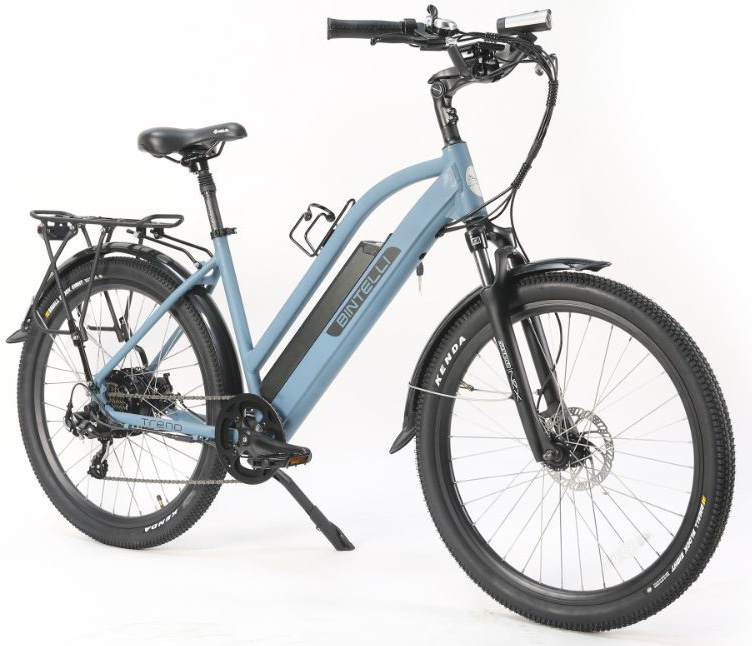 The Trend comes with many standard features, such as a 12.5AH lithium ion battery, an LCD display, and a powerful 500 watt motor that is capable of reaching speeds up to 20mph. For commuter needs Bintelli added in a rear rack and front suspension.
---
Bintelli Florence, $1900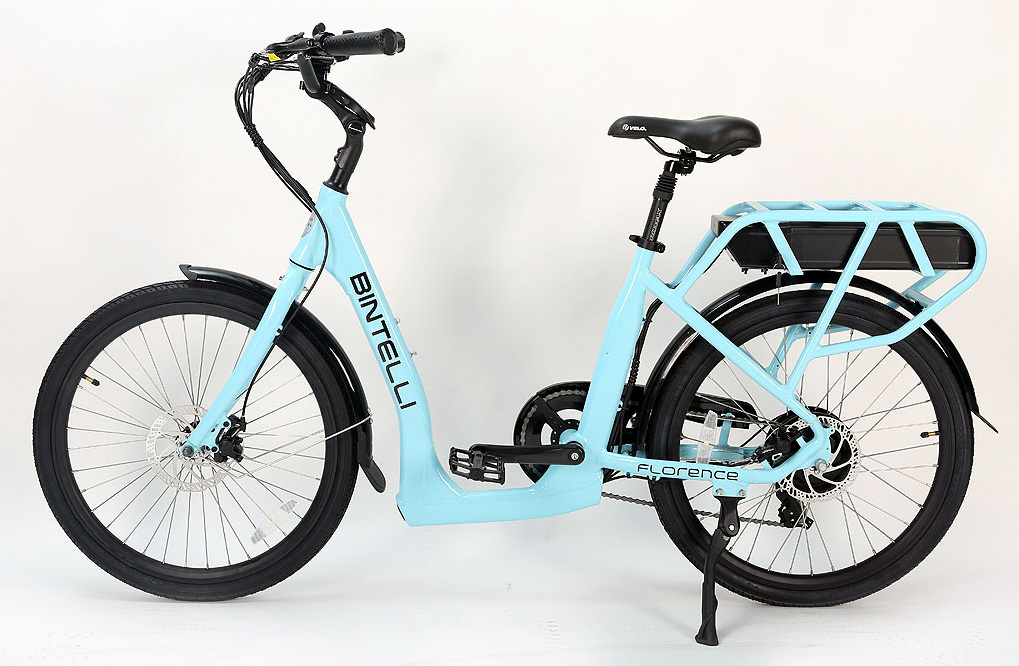 The Florence is designed to be easy to get on and off with one of the lowest step-thru heights on the market.   This electric bike comes with many standard features, such as a 12.5AH lithium ion battery, an LCD display, and a powerful 500 watt motor that is capable of reaching speeds up to 20mph. For your commuter needs Bintelli added in a rear rack.
---
The Journey, $1700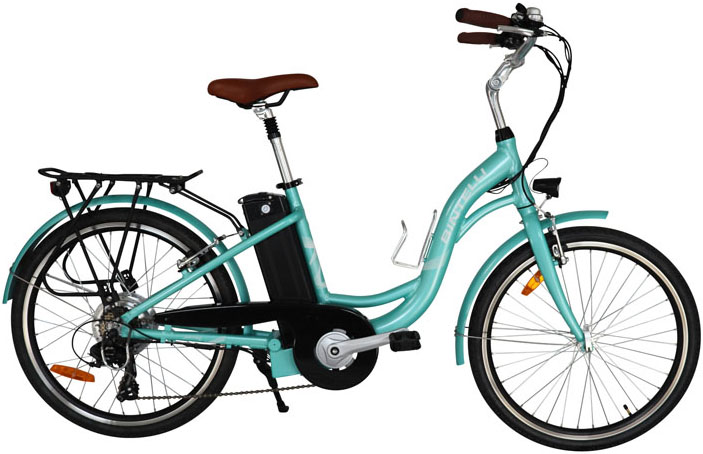 The Bintelli Journey is a classic styled step-through electric bike. Its powered by a 350w motor and the seat post suspension ensures a comfortable ride. It features a rear tire rack for cargo and an LED display for the cadence pedal assist for cruising on the beach or around campus.
---
Magnum
Founded in 2010 Magnum Bikes has been a leader in innovation and design of electric bicycles. Magnum stands behind their products 100%, designing all of their bikes to be user friendly and easy to service. Magnum includes top brand name bicycle components including Schwalbe, Tektro, Promax, Hesling, 8Fun, Samsung, Selle Royal, Shimano, RST and Wellgo.
The Cosmopolitan, $1600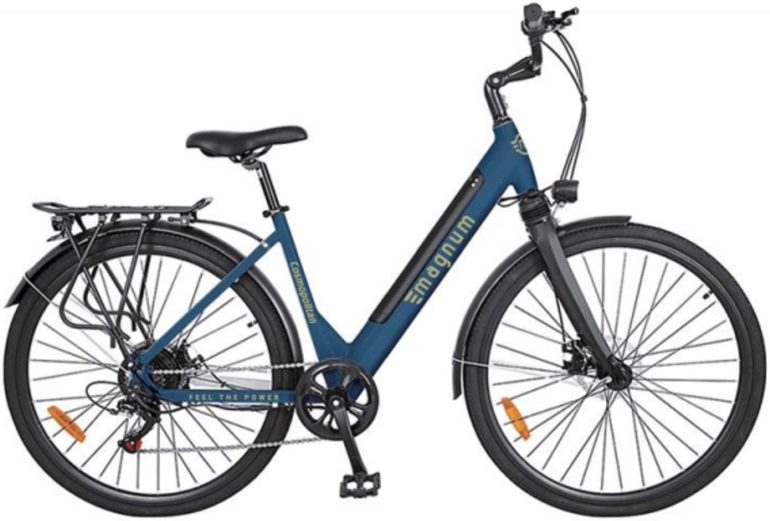 The Magnum Cosmopolitan has a light frame with a fully integrated battery. The power system is 350W, 36V, with a 10Ah battery.
---
The Metro, $2275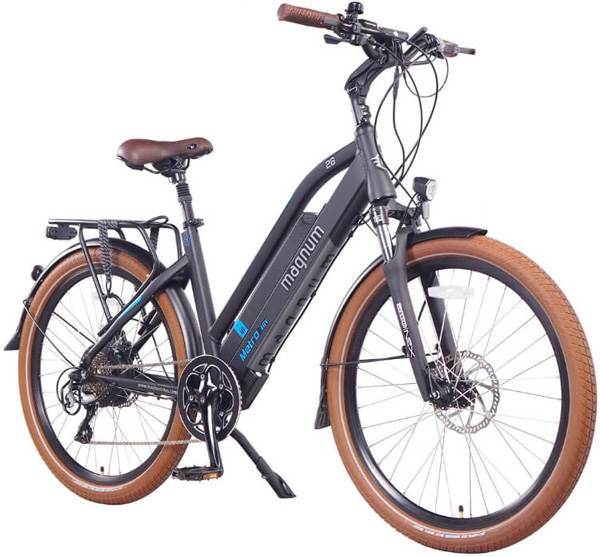 The Magnum Metro is a beautifully designed, purpose built electric bike well suited to urban riding or commuting. Step-thru frame for easy mounting and dismounting. Powerful 500 watt motor paired with a large 48 volt 13 amp hour battery pack, offers both pedal assist and throttle mode.
---
The Pathfinder, $2100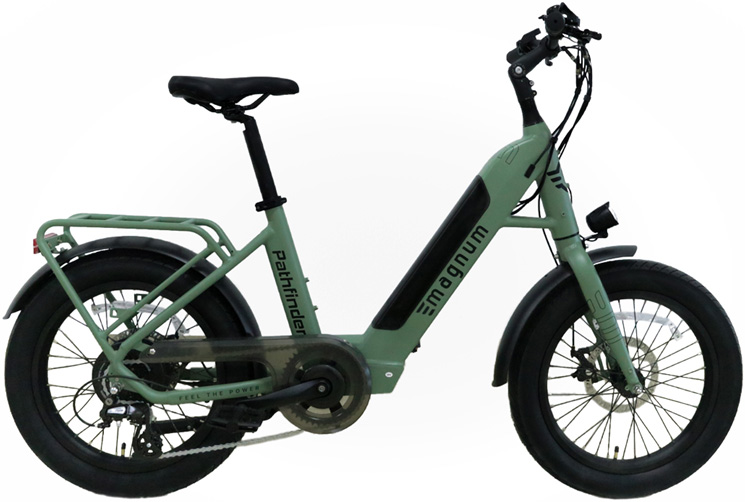 The Magnum Pathfinder has a compact frame with a fully integrated battery. Its standout feature in the Magnum lineup is its 20″ fat tires. The power system is 500W, 48V, with a 13Ah battery.
---
Gocycle Folding Bike
Gocycle produces what many consider the most innovative, high quality folding ebike. Its founder, Richard Thorpe, was so passionate about creating the perfect ebike that he left a dream design job with McLaren cars to dedicate all his time to this purpose. With his experience designing lightweight racing car components and his enthusiasm for innovative engineering excellence, Richard believed that an ebike should be elegant and fun. From this vision and expertise, came the Gocycle.
Gocycle GX, $4000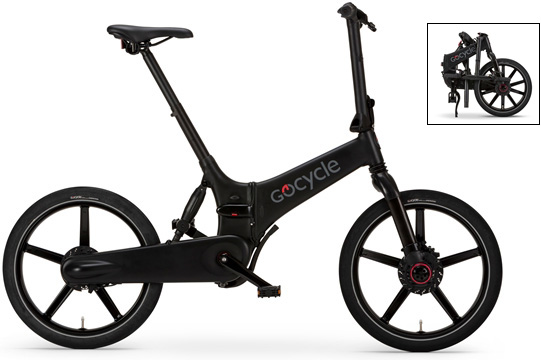 This commuter bike is designed to be folded in less than a minute. The GX comes with ergonomic and comfortable grips mated to a 3 speed mechanical twist shifter. Cables are elegantly routed through the frame connecting to the durable Shimano gearing. Central LED displays the fuel level of your battery. The powerful lithium ion battery is easily accessible and hidden within the aluminum frame providing a range up to 40 miles with a 7-hour charge time.
---
Yuba Cargo eBikes
Yuba is solely focused on cargo bikes to help change the way people commute while carrying gear, humans, pets and more. It is considered the global leader in this category.
Spicy Curry, $4800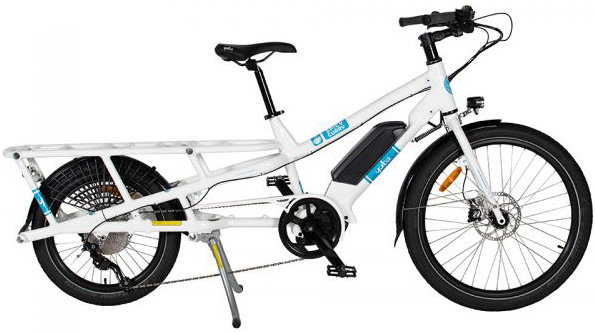 The Spicy Curry has been a favorite of cargo bike fans around the globe since 2015. The Spicy Curry won the Eurobike Product Innovation Gold Award the year the bike was introduced, and it's only gotten better since with enhanced ride quality, safety features and more get up and go.  This cargo bike has the new Bosch Cargo Motor designed especially for cargo bikes, providing support up to 20 mph.
The Power Pack Battery offers increased capacity and range, and the Kiox Display records data and transmits it via Bluetooth to the Bosch eBike Connect smartphone app.
---
Boda Boda, $3300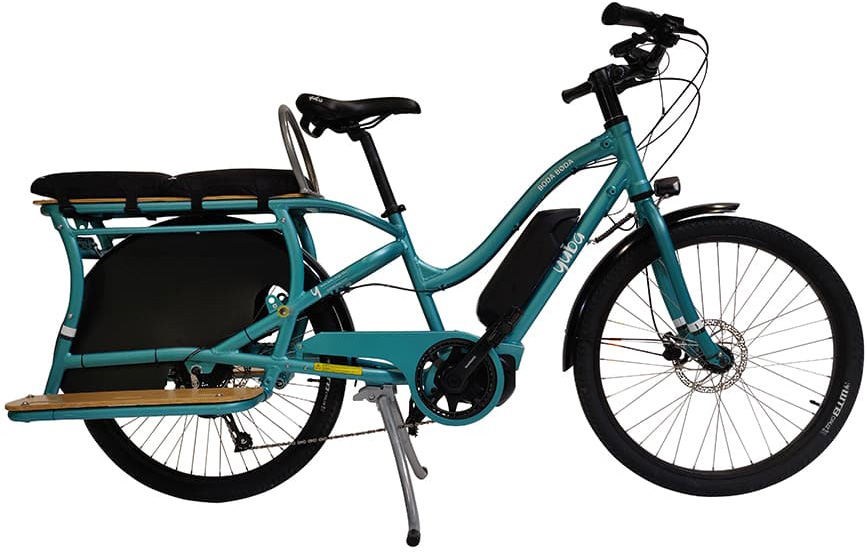 Inspired by the traditional African bicycle taxi, the Boda Boda offers light, nimble steering and astonishing carrying capacity. Perfect for the whole family, the Boda Boda boasts easy sharing features like an adjustable cockpit and extended seat post,
The Boda Boda is offered in both a step-over and a step-through frame style. With the addition of the intuitive Shimano Steps E6100 250W motor, which solidly supports speeds of up to 20 mph, and the long-lasting, durable 36V 418Wh battery, you will actually enjoy running errands and finding reasons to ride.
---
Electric Supermarche, $5900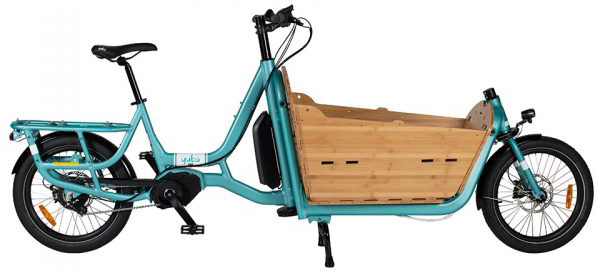 Specifically designed for active parents and small businesses alike, the Supermarché fits nearly every rider thanks to a low step-through frame with adjustable stem and seat post. The extra-low front cargo rack, lightweight frame and double-cable steering give you confidence and control.
Yuba tacked on a rear rack over the 20-inch rear wheel for extras and one more passenger. The Supermarché comes with a Bosch Performance Line 250W, 36V Powerpack 500 capable of speeds up to 20 mph. This all adds up to a powerful cargo-hauling machine that steers like butter and turns heads everywhere.