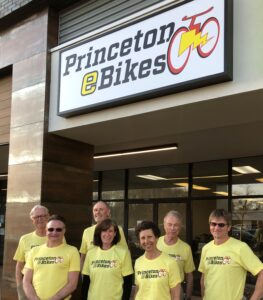 So, asks a drop-in visitor to Princeton eBikes: Is this a bicycle or a motorcycle?
Princeton eBikes founder and co-partner Russ White assures the man that despite its compact but formidable-looking electric motor and battery, and its assertive design (part curvaceous retro, part sharp-edged futurism) the device he's eying — like all the others lining the recently opened store in the Lawrence Shopping Center — is indeed officially and legally a bicycle.
And — with a sales pitch as understated as the operating whirr of the vehicle's motor — White adds that all sales proceeds at Princeton eBikes after store expenses benefit the Boys & Girls Clubs of Mercer County.